Big Ideas
Wander Your Way Through Blaak Markt in Rotterdam
Just outside massive indoor Markthal, this little twice-weekly market will keep you busy—and satiated.
By Gi Gi O'Brien | May 21, 2021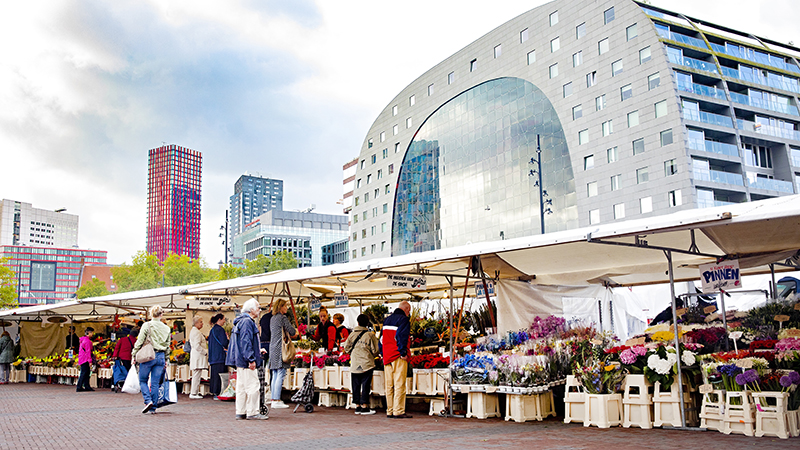 Iris van den Broek
---
Overview: Early birds buzz along the two market walkways grabbing well-priced fruits and vegetables. A rainbow array of flowers, samples of a mature dutch cheese and a surrounding skyline of distinguished dutch architecture—there is something truly special about the outdoor Blaak Markt every Tuesday and Saturday.
Crowd: Tourists neatly mix with locals in signature Rotterdam fashion. With the Erasmus University nearby, this place is a mini-melting-pot of nationalities where English is a common language.
Agenda: Sip the honey of a warm stroopwafel, watch mayo melt on a cylinder of fries (the preferred condiment for Dutch fries) and lick your favourite gelato for the finale. Dried fruits from the outdoor market veterans are recommended before you move into the Markthal, which has a variety of things to amuse, including food, underground fashion, art, music and gifts.
Essential: The nearby Cube Houses are architectural icons, a flagship Rotterdam attraction.
Timing: Visit in April when the tulips bloom and stay on until summer warms the market stalls and the bar terraces surrounding the market come to life.
---

Look for Travelier in print soon.