Canada
I Had a Sleepover in a Lighthouse
A cool conservation area-slash-island-slash-inn on the St. Lawrence River is definitely off the beaten path. And up a few stairs.
By Jim Bamboulis | April 21, 2021

Jim Bamboulis
---
Two hours northeast of Quebec City, a simple stopover at Rivière-du-Loup is transformed into an offshore sleepover adventure at the Brandy Pot Island Lighthouse.
Commissioned in 1862 and abandoned 102 years later, the lighthouse was restored in 1989 by Société Duvetnor, which turned this classified federal heritage building into a charming, cozy inn with three gorgeous guest rooms replete with 19th-century furnishings.
As well as maintaining the building, Société Duvetnor is also dedicated to wildlife conservation and responsible ecotourism. It works to preserve the habitat of tens of thousands of seabirds that live on the rocky archipelago known as the Îles de l'Estuaire National Wildlife Area.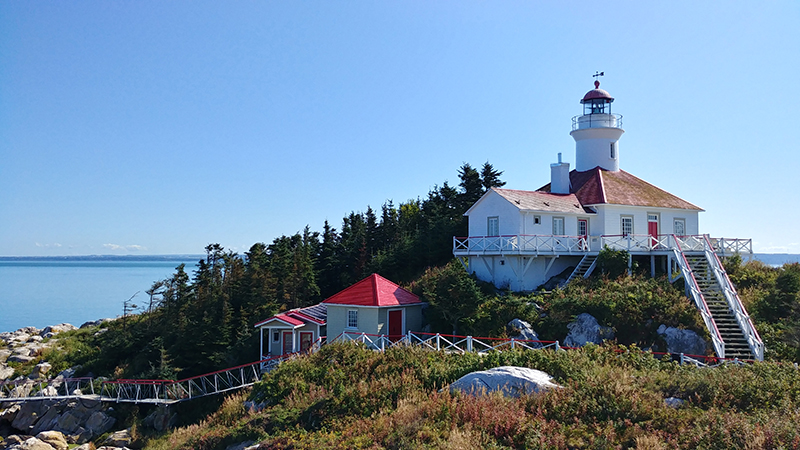 Brinela Miskovic
Pro tip: Bring your own bottle of wine!
Pot à l'Eau-de-Vie
The lighthouse reflects the attempts of the government at the time to reduce the isolation of communities along the river by enhancing shipping safety, which contributed to the growth of the local community.
Guests are first given a cruise and tour of the islands to experience the natural history and environment first-hand before heading to the lighthouse. You can climb the tower or hike the trails on the island before settling in for an incredible dinner, inspired by the diverse, seasonal flavours of the region. Pro tip: Bring your own bottle of wine for this intimate meal that you'll undoubtedly find yourself sharing with the other guests.
Go to bed to the sound of silence and wake up refreshed to an incredible view, birdsong, a continental breakfast and a pod of beluga whales frolicking around you.
---

Look for Travelier in print soon.