Canada
Street Art Crawl: Canada's Best Murals and Graffiti
Here's how to find the ever-expanding outdoor art enclaves in cities across the country.
By Waheeda Harris | May 26, 2021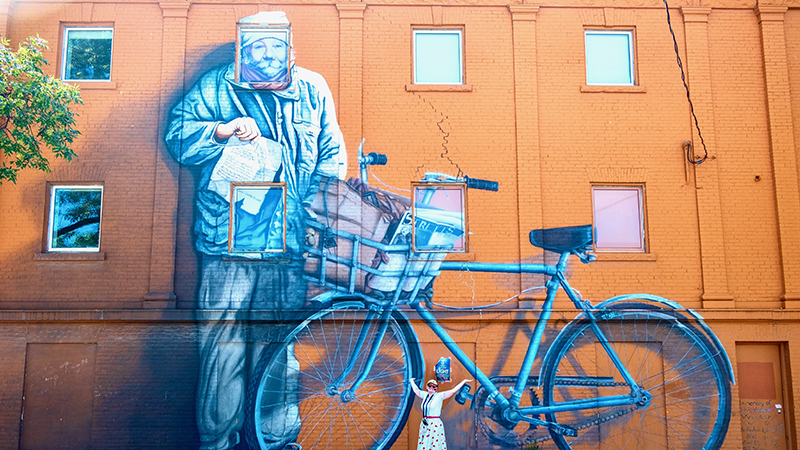 Jay Pee Licudan
---
Walking around in a city allows for a slow study of the streetscape, the best way to discover the expanding galleries of street art found in Vancouver, Edmonton, Winnipeg, Toronto and Montreal.
Vancouver
Toonie Tours explores Vancouver's eclectic Mount Pleasant district, pairing craft brews and back-alley art. Participants alternate between sampling chilled beer from five breweries and being led through the area's graffiti zones, discovering sanctioned murals and dumpster art over three hours. For those wanting to DIY, the Vancouver Mural Festival website offers a virtual tour of murals created annually since 2016, while the app features 200-plus murals, details on the artists and their inspo, and the ability to create a tour based on artist, location or artistic style.
Edmonton
Rust Magic mural festival has been a boon for Edmonton's street art, commissioning artists like Xena, Fresh Canvas, OG Slick and Xochitl Gracia and creating an online map that lets you make your own art trail of the festival's 45 murals. Edmonton blogger Linda Hoang's passion for striking art walls led her to share her discoveries via social media and to create the online Guide to Instagrammable Walls of Edmonton, which includes photos and addresses to help plot your own custom tour.
Winnipeg
Winnipeg's West End can brag about becoming street art central, with more than 70 murals representing the city's cultures and communities. The West End BIZ (business improvement zone) created a virtual tour of 10 artworks painted between 2003 and 2015, showcasing city history, which can also be used as a starting point for your own art stroll. Be sure to head to Back Alley Arctic in the alley at Canora and Ethelbert to see Kal Barteski's murals of Arctic wildlife.
Toronto
Fall 2021 marks the beginning of ArtWorxTO, Toronto's year of public art. Make your own trail via StrollTO, with self-guided neighbourhood maps to help discover art hot spots like Graffiti Alley, Evergreen Brick Works, the commissioned signal boxes in the Out of the Box art program, and notable architectural and historic sites of the city. Consider starting with the Little Portugal neighbourhood, which created the Dundas West Open Air Museum in 2019, featuring 20 murals along a two-kilometre stretch in the West End.
Montreal
Since 2013, Montreal's Mural Festival has been welcoming artists to reimagine The Main's cinder-block and brick walls into eye-catching creations and cultural commentary. Last year, the festival focused on Canadian artists like Ankhone, Fvckrender and Burnt Toast, expanding from 11 days to two months for locals to watch the art appear. The organizers have launched an app, featuring a self-guided 60-minute audio tour of more than 20 murals created since the festival's inception, with an exclusive AR experience of each artwork.
---

Look for Travelier in print soon.