International
The Gili Islands Off the Coast of Lombok are a Traveller's Trifecta
These islands in the Indonesian Archipelago require airplanes, and buses, and taxis, and boats, and more boats, to get to.
By Jeff Kirkwood | April 05, 2021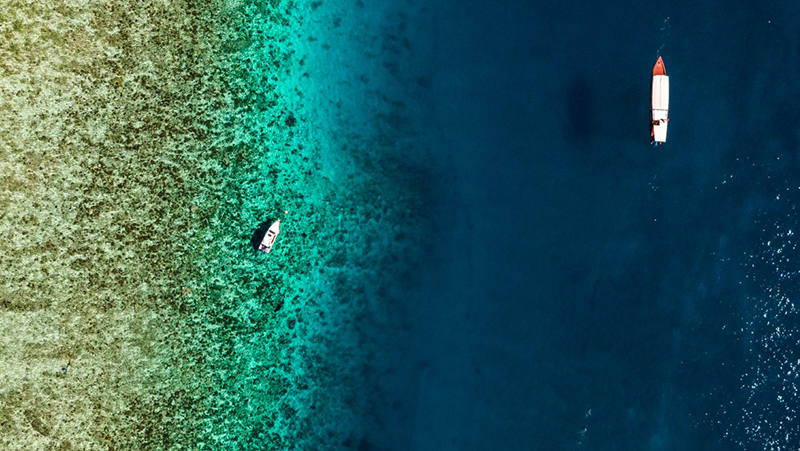 Ville Kasari
---
The Gili islands have been a long-standing cult destination for three types of people who all have one thing in common: they've discovered one of the few places on earth that is truly on the edge of the world.
I say three types of people, because these three islands maintain three vibes, each attracting its own tribe.
Gili Trawangan, the big one. For the super adventurous but not TOO super adventurous. This is the one that all the fast boats dock at first. It's a bit of a tourist trap these days. There are no cars, but Gili T still somehow still manages to have hectic streets. The crowd can only be described as eclectic. When I first went there eight years ago, I was escorted to my hotel by a horse-drawn carriage loaded up with my luggage. There is an abundance of AMAZING scuba companies because the diving is some of the best on earth, there are some quite spectacular hotels, and… you can find Italian food.
Watch out for sea urchins off the beach in Meno—the poisonous barbed spikes are very real.
Hop, Skip, Jump
Visitors reach the Gili Islands via a variety of fast boats, many operating out of Bali if that is your starting point. While there are no cars on the islands, there are electric scooters to watch out for.
Then there is Gili Meno, a short boat away, maybe 20 minutes. For the super adventurous lovers of peace and quiet. This one has only a few sleeping-in-a beach-hut places to stay, and not much else. It's famous for its snorkeling and for the channel between Trawangan and Menos that tourists try to swim across and are never seen again. Obviously not recommended—the currents are real. Also watch out for sea urchins off the beach in Meno—the poisonous barbed spikes are also real.
And then there is Gili Air, the raw one, which still maintains a bit of a social vibe. This one is also a favourite with the backpackers and paddlers. The west side is more of a nature reserve, while the east side has a few restaurants, shops and beach bungalows. And if you time your trip right, there might be a full moon and a techno party in the woods for you to dive into.
---

Look for Travelier in print soon.